I was watching
Boston Legal
last night and once again was shocked by how completely wrong, offensive, and irresponsible the portrayal of autistics is in mass media.
Even the kindest portrayal of people with Asperger's is concentrated on presenting us as some kind of eccentric geniuses who are smart but completely inept socially and as a result make everybody around them feel extremely uncomfortable.
On the one hand, ridiculizing autistics attracts viewers. Many people need the kind of entertainment that gets more and more extreme with every new episode, show, movie, etc. These people feel so benumbed by their sad daily existences that they need entertainment to tickle them into consciousness, albeit momentarily.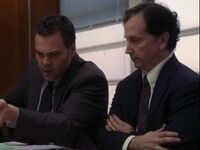 Another reason why we are portrayed as pathetic, unstable, and innately freaky is the pill-pushing agenda of pharmaceutical companies. In the episode of
Boston Legal
that I watched last night, it was suggested that there is medication for Asperger's and the character will "get better" as soon as he starts taking it. This, of course, is an egregious lie. Not only is there no "cure" for Asperger's, there can be none because it is not a disease.
Television shows are generally kinder towards female Aspies. Kinder, however, does not mean either truthful nor unwilling to generalize. Temperance Brennan, the main character of
Bones
, is portrayed as a lot more likebale and less "weird" that
Boston Legal
's "Hands" and
Law & Order: CI
's Wally Stevens. Still, every effort is made to highlight her almost unexistent personal life and innate "nerdiness."
Because of shows like these, it is often useless to try telling people that you have autism. "No, of course you don't!" they say in indignation. You are nothing like people with Asperger's that they show on television!" Well, my friends, do you know what the difference is between me and these characters?
I'm
real and they are not
. They are fictional characters created for a specific purpose. Such shows might entertain you but they will never teach you anything useful or truthful about autism.