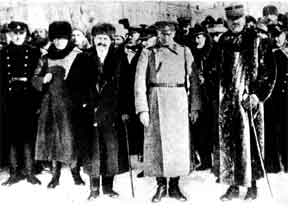 History is the damndest thing, my friends.
We went to an Easter dinner at the house of the Chair of my department. There was a lady there who used to work for our department teaching Russian and French but she is now retired.
It turned out that this woman is the daughter of a White Army officer and a White Army doctor. Her parents were on the side of the people who lost the Civil War in the twenties and had to escape from Russia. They eneded up in Morocco, which is where she was born.
The weird thing is that here we were, she, a descendant of people who lost the war and I, a descendant of the people who won it.
And we both ended up in Southern Illinois, teaching at the same university.
History works in the weirdest ways.