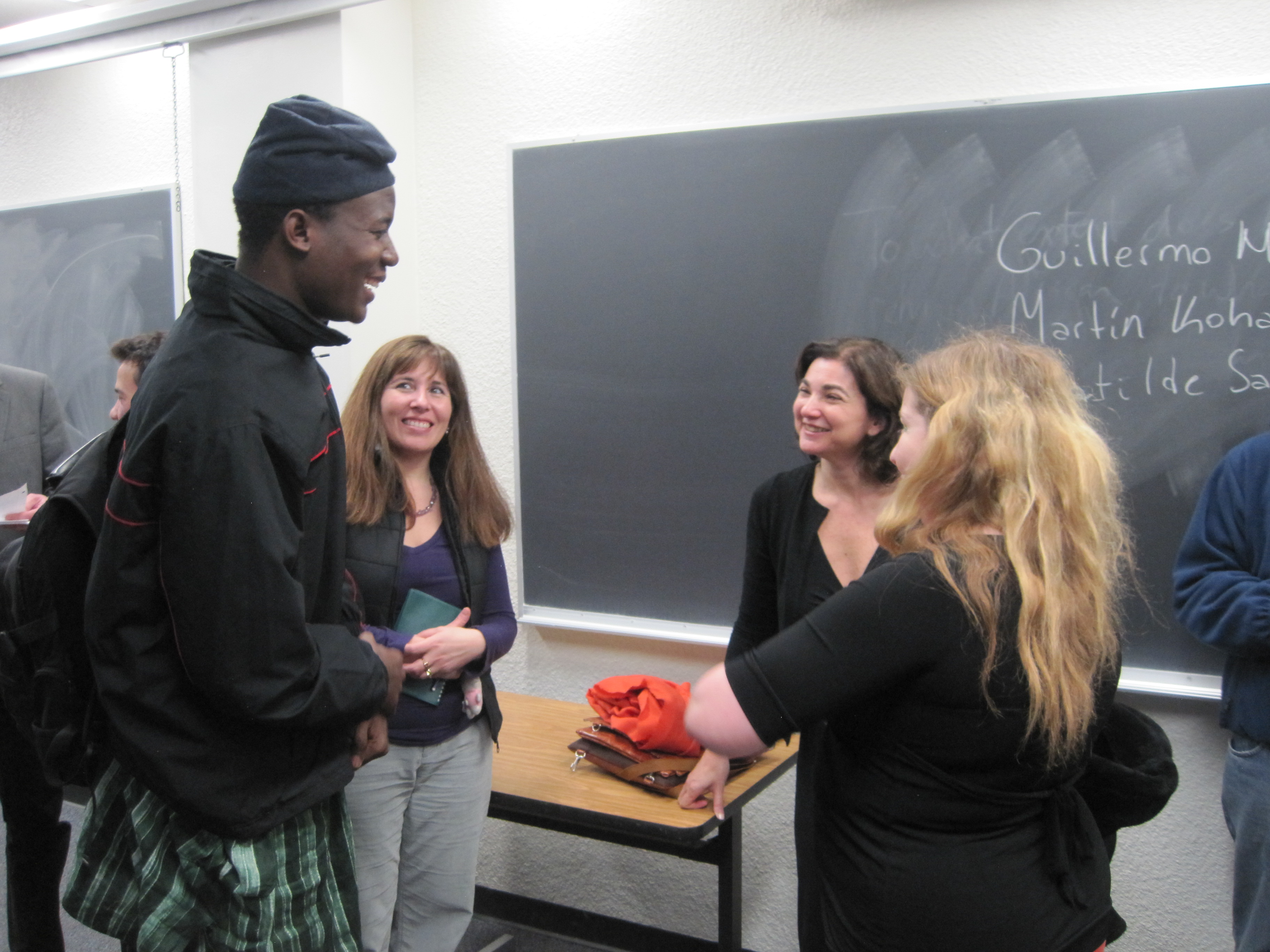 This picture from the visit of an Argentinean writer to our campus appeared at
the blog of a fellow blogger and colleague Kola
. The woman with the crazy hair who is standing with her back to the camera is the author of this blog.
Since the picture is so readily available, I wanted to take this opportunity to explain once and for all why my hair is so crazy and what is the ideological message behind it. Once, students asked me why I don't do anything to control my hair, and my explanation even inspired one of the students to dedicate his final essay to the exploration of the ideological dimensions of hair. A good teacher can turn anything into an educational opportunity. And a good blogger sees everything as an opportunity to write a post. :-)
As I mentioned before, I grew up in the Soviet Union. The Soviet system had a complex and far-reaching network of measures aimed at breaking the will and the individuality of every citizen so that they would be compliant and malleable from the earliest moments in their lives. Female hair was seen as ideologically dangerous. There is, of course, a long history of imagining long and unruly female hair as symbolic of unbridled and uncontrollable sexuality. The more repressive a religion is, the more it strives to mess with female hair. The Soviet system of repression was especially dedicated to destroying female sexuality as one of the most dangerous forces to any totalitarian, repressive, patriarchal regime. (Maybe I'll write a post about that some time if people are interested.)
When I went to school, I discovered that hair was the main site of a battle between female students and school authorities for the control over our bodies and our self-expression. We were constantly berated for letting our hair loose (in the literal sense that in the minds of the Soviet people would eventually lead us to do it metaphorically). We were endlessly told to braid our hair, put it in a pony-tail, or controlled in some way.
Since then, I practice faithfully my freedom to have my hair in as wild a state as it can get on its own (and you should see it when the weather is wet and rainy). It's my own way of saying that I have the exclusive and inalienable right to do whatever I see fit with my own body and everybody else should just accept it.