Who the hell do those Israelis think they are? Americans? Don't they know already that the only country in the world that is allowed to act aggressively with or without provocation is the good old US of A?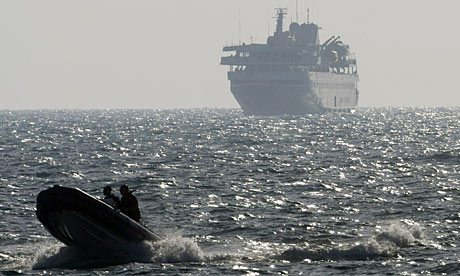 Who would have known they are that naive? So they go and create a blockade of the Gaza strip and then they actually expect somebody to care about that. To think that such ingenuity is possible in this day and age. Don't they know already that the only blockades, military actions, torture, destruction, in short, any kind of political decisions that are to be respected on this planet are those of the US?
Don't they realize that the so-called liberal journalists need stuff to write about? Of course, when the US invaded Iraq for no reason whatsoever, they didn't dare to emit a sound in protest. When the economy was being destroyed by endless deregulation, they did nothing but cheer. When the human rights were trampled in an unprecedented manner, they had nothing to say. No matter what kind of atrocity the US commits, they keep sitting on the sidelines with patient resignation, waiting for a chance to show their complete approval.
Obviously, all the effort that goes into not reporting any actual news must be very fatiguing. So when an opportunity arises to let off some steam by bashing Israel - for doing a tiny fraction of what the US has been doing on a daily basis for over a century, mind you - they jump on it. Anti-semitism always sells extremely well, especially so in times of economic crisis. Of course, these so-called journalists haven't even recognized that there is an economic crisis yet and prefer to lie to the public about being in a "recession." Why not distract the people who keep losing their jobs from the sad reality that the economy is not about to improve any time soon by a spot of Israel-hating?